Filipino Artist
The Best Of Ilocano Songs - Jessa Lopez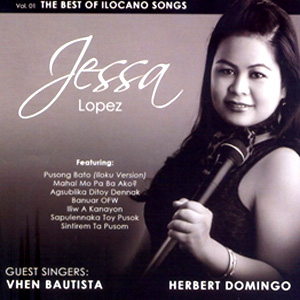 Album:
The Best Of Ilocano Songs - Jessa Lopez
Artist:
Jessa Lopez
01. Agsublika Ditoy Dennak
02. Sapulennaka Toy Pusok
03. Iliw A Kanayon-a duet with Vhe Bautista
04. Pusong Bato – Iloku Version -
Play on YOUTUBE
05. Banuar OFW
06. Sintirem Ta Pusom
07. No Sikat Malagip
08. Rigat Ken Nam-ay- a duet with Herbert Paul Domingo
09. Bestfriend
10. Sagot A Biag
11. Adiosen Ken Goodbyen
*Bonus Track
12. Mahal Mo Pa Ba Ako?
13. O Kay Bilis
14. Open Arms
#8 Annapolis St., Greenhills San Juan City, Metro Manila 1502
Tel. No.: 726-1080 / Telefax: 726-6759